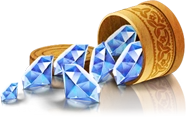 Players earn Gems as they play Cooking Fever. Gems can be used to purchase new restaurants and improve restaurants by buying kitchen and interior upgrades. Gems are also used to compete in Cooking Fever challenges and tournaments.
Gems can be earned in the game or purchased with real money.
In order to buy access to all the restaurants in The City(first map screen), and all equipment upgrades, you require 1443 gems, not including any aesthetic, food cost, or automatic cooking machine upgrades.
Earning Gems
Gemsgem

can be earned by:
Purchasing Gems
Gems can be purchased with real money. Below is a table of the prices. Sometimes the game offers special discounts on purchasing gems.
$0.99
10

gem

$2.99
35

gem

$4.99
60

gem

$9.99
125

gem

$19.99
300

gem

$99.99
5,000

gem